If you live in the U.S., there's a good chance you connect to the internet in your home using a wired modem. That number is a majority 63 percent, according to a Statista Global Consumer Survey conducted in 2020 in the United States. The percentage may be high now, but it has a real possibility of changing in the coming years. As mobile networks become faster, without fluctuating broadband speeds, the opportunity to reach new and existing users without digging up roads to lay cables becomes enormous. T-Mobile is one of the carriers exploring providing wireless home internet service and has now begun deploying it more widely.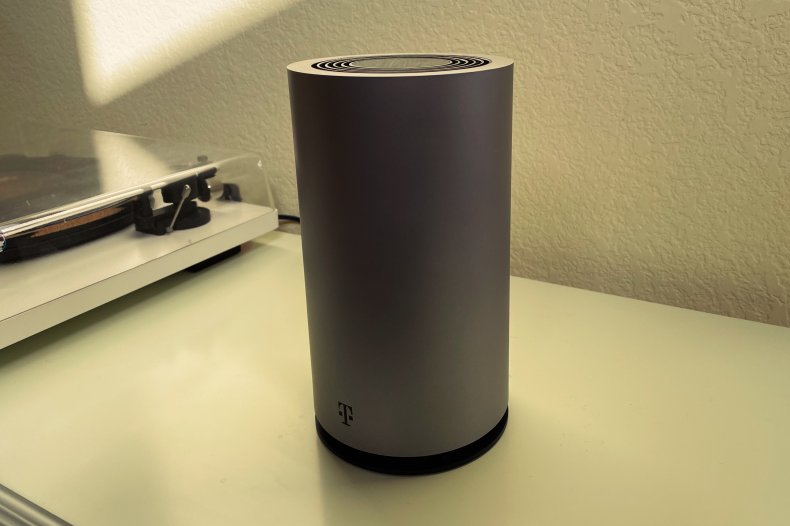 The breakthrough for consumers here are new home internet options beyond the typical one or two monopolistic providers. It's common that a location only has access to a single cable and DSL provider. It's difficult for a new provider to come in for several reasons, including the costs of physically deploying new cabling to every neighborhood. With wireless, however, network carriers have a chance to reach a majority of the country in an instant.
What Is T-Mobile Home Internet?
Instead of connecting to T-Mobile's cellular network with a mobile phone, you connect to it with a specialty modem and/or router that converts its 5G signal to Wi-Fi. That's the gist of T-Mobile's new home internet service. T-Mobile service becomes accessible to all internet devices in your home.
At launch, T-Mobile advertises a $60 price point (when you turn on autopay billing) for unlimited data usage. Just like mobile service, your location will affect the speeds you can get, but the company says most customers will see speeds in excess of 100 megabits per second (Mbps), with a minimum of 25 Mbps. You won't be able to sign up until the company feels comfortable with adequate service in your home's area.
There are no equipment fees for the provided modem gateway, and everything is bundled in that flat monthly cost. T-Mobile notes the included gateway
is compatible with its nationwide 4G LTE and 5G networks
has dual-band Wi-Fi 6 technology
is mesh expandable
How Does T-Mobile Home Internet Perform?
T-Mobile's home internet service, like its nationwide network, is not universal in performance. Its coverage and results are very regional. My testing of it took place in Southern California, where I've previously had a reasonably good experience with T-Mobile's mobile coverage.
Overall, the home internet service worked fine. In a nondramatic fashion, it performed better than expected in some cases but fell short at some other inopportune times. At this early stage, it's very promising, but ultimately just fine.
For people who don't need much out of their home internet service but prefer the potentially lower price, this option could lead to an instant sign-up. And, honestly, any new internet service provider (ISP) option is welcome.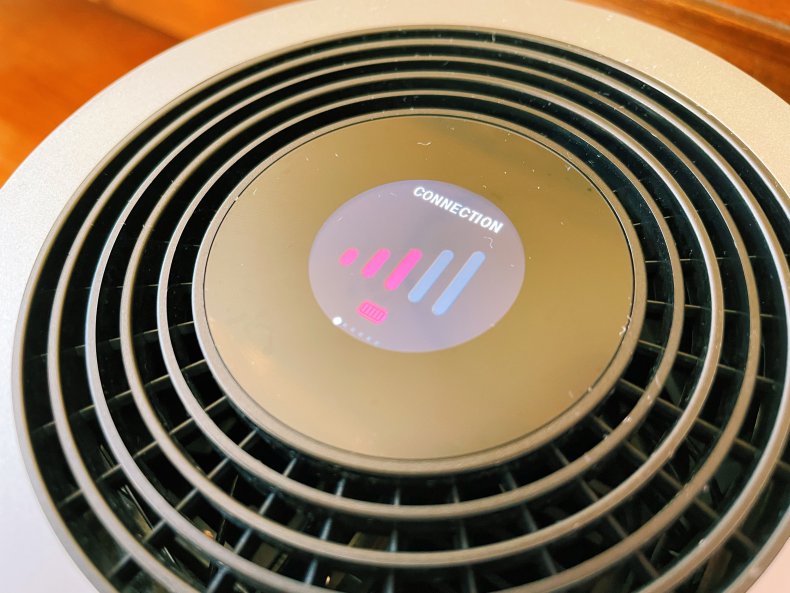 After unboxing the gateway, it was set up and serving internet to my phone within 10 minutes or so. The app, separate from any other T-Mobile mobile app, walks you through plugging in the hardware and any software changes that are needed. You'll have the option to change the network name and password, but other than that, there's not much to configure. You're mostly just letting the device do its thing.
As you begin the process, the app asks what your comfort level is, and presumably alters the instructions based on that choice. I chose the middle option, a moderate level of experience, despite my having worked as a computer technician for nearly a decade. I was curious about the path I guessed most people would take. It was simple and easy to understand.
The gateway unit itself is pretty neat. It has a battery built-in for power outages. It has a tiny circular touchscreen on top that will indicate the connection and number of devices connected, among other things. It looks too small to be touch capable, but it is. Mostly, you can swipe the screen left or right to display information.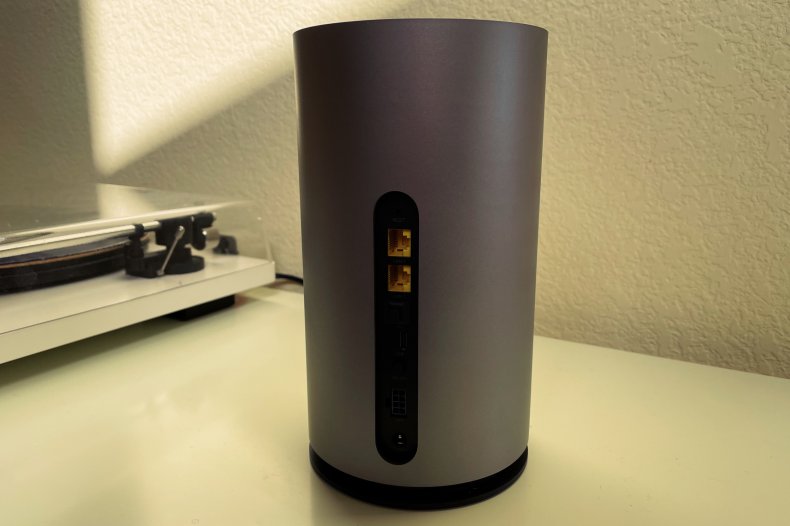 First, I tried positioning the gateway downstairs and saw speeds around 150 Mbps down. The Wi-Fi the device provided was surprisingly robust and able to reach nearly all parts of a 2,000 square foot house. After 10 days, I moved it upstairs, and the signal readout on top and in the app didn't change from three out of five bars, but the speeds went up to more than 400 Mbps down.
There were times throughout my testing that I also saw speeds of 2 Mbps down. A few evenings while trying to stream a new TV show around 8 to 9 p.m., the speeds plummeted. The extremely high speeds during the middle of the day were great, but the slow speeds that caused constant video buffering, even just a couple of times, were enough to make me consider whether the service was worth it.
As remote work becomes more common, the need for steady uptime and reliable speeds to support video conferencing is a must. High throughput is no longer just about leisure activities.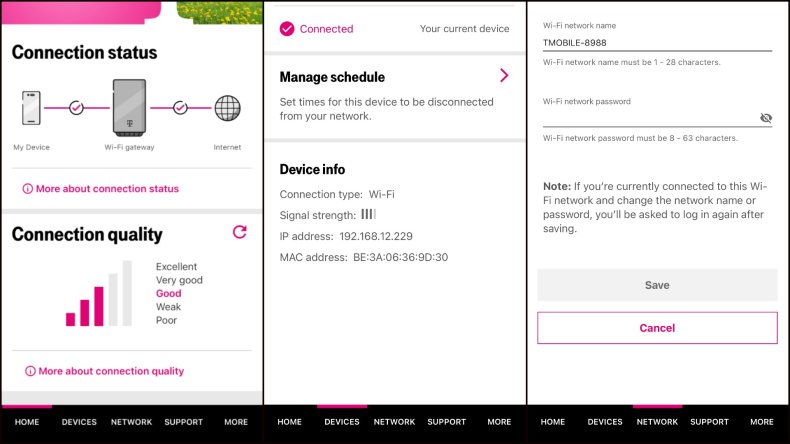 There is a pretty heavy reliance on the mobile app. Compared to Eero, Linksys or most other router apps, this one is bare-bones. It's not bad; in fact, it's a good foundation, but it's just much more limited as of now.
You can see the gateway's signal strength and whether it's connected to the internet, but it doesn't show the current speeds. It will also indicate how many devices are connected to it, but it doesn't even try to make the names user-friendly. You can change the network name and password in the app, but there's no guest network availability at this point.
Even though the app is severely limited on features, you can assign a time limit for certain devices so they can't connect beyond certain hours. As long as its features get updated on a frequent clip, the app will be a compelling component of the overall service. There are plenty of support resources in the app if you do experience problems. There was more than I would expect, actually.
Over the course of about a month, I never had service outages, just a few times when the speed slowed way down. I experience the same from Cox Communications, as well, but less often with curbside wired broadband. You'll just have to decide whether your situation and available options warrant jumping into the service.
Should You Sign Up for T-Mobile Home Internet?
The offer of unlimited home internet service for $60 a month is a breath of fresh air for people looking to keep costs down. Almost routinely I was hit with overages for Cox's internet service during the pandemic's stay-at-home orders. The only question is whether your household is a good fit for the current speeds.
For people with smaller households and less than 10 or so connected devices, this might be the perfect opportunity to ditch higher broadband prices in your area. I personally got speeds of at least 150 Mbps down most of the time, which could be manageable. It will all depend on your data consumption habits and location. Getting speeds less than 100 Mbps down could become a problem for a lot of people. All told, T-Mobile's home internet service is a compelling start that hopefully blooms into a second or third ISP option for people around the US.
Sign up at T-Mobile.
Newsweek may earn a commission from links on this page, but we only recommend products we back. We participate in various affiliate marketing programs, which means we may get paid commissions on editorially chosen products purchased through our links to retailer sites.